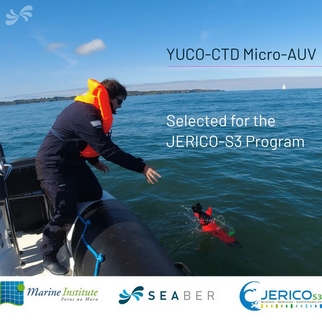 Honored and thrilled to announce that YUCO-CTD micro-AUV proposal was selected for the JERICO-RI European Infrastructure JERICO-S3 coastal observation program! The main objective of this project is to show capability of the YUCO micro-AUV to provide precise salinity data with great spatial coverage in a coastal environment with waves, currents and tides.
SEABER collaborates with the Marine Institute and SmartBay Marine Test Site Observatory in Galway Bay, Ireland.
Thanks to its INX© navigation system (Intuitive Navigation eXperience) combined with DVL (Doppler Velocity Logger) will showcase its unique capability to perform great navigation accuracy in complex coastal environment.
The CTD Legato RBR Ltd. will provide accurate and calibrated dynamic temperature and salinity measurements.
YUCO will perform various missions in the Galway Bay such as: – Navigating together with a Marine Institute Slocum Glider from Teledyne Marine – Measuring data around fixed observatories of the SmartBay Observatory – Being launched and recovered by multiple means (shore, small vessels, deck…) We are even more delighted as SEABER YUCO-CTD was ranked among the best proposals of the JERICO-S3 session!