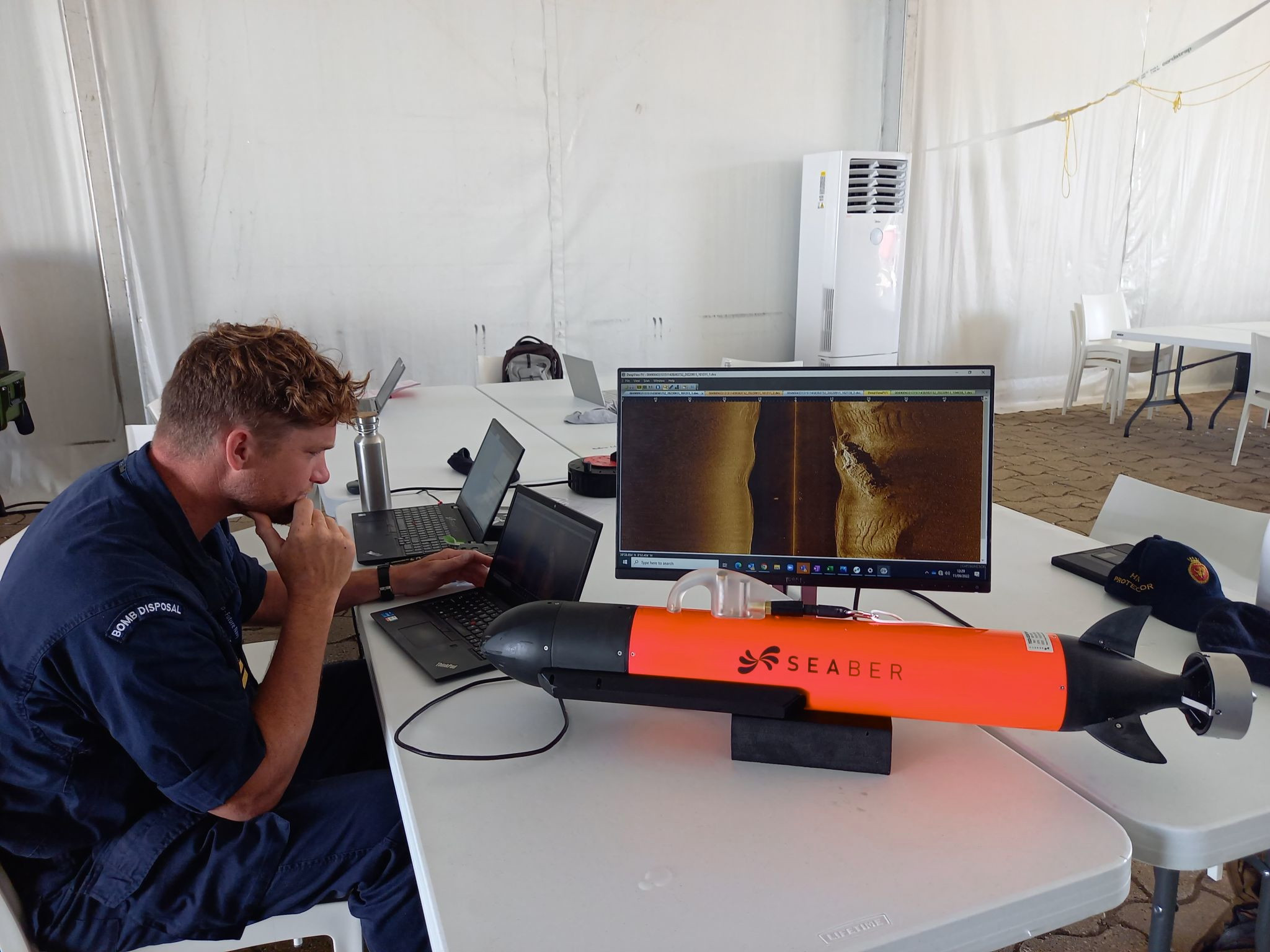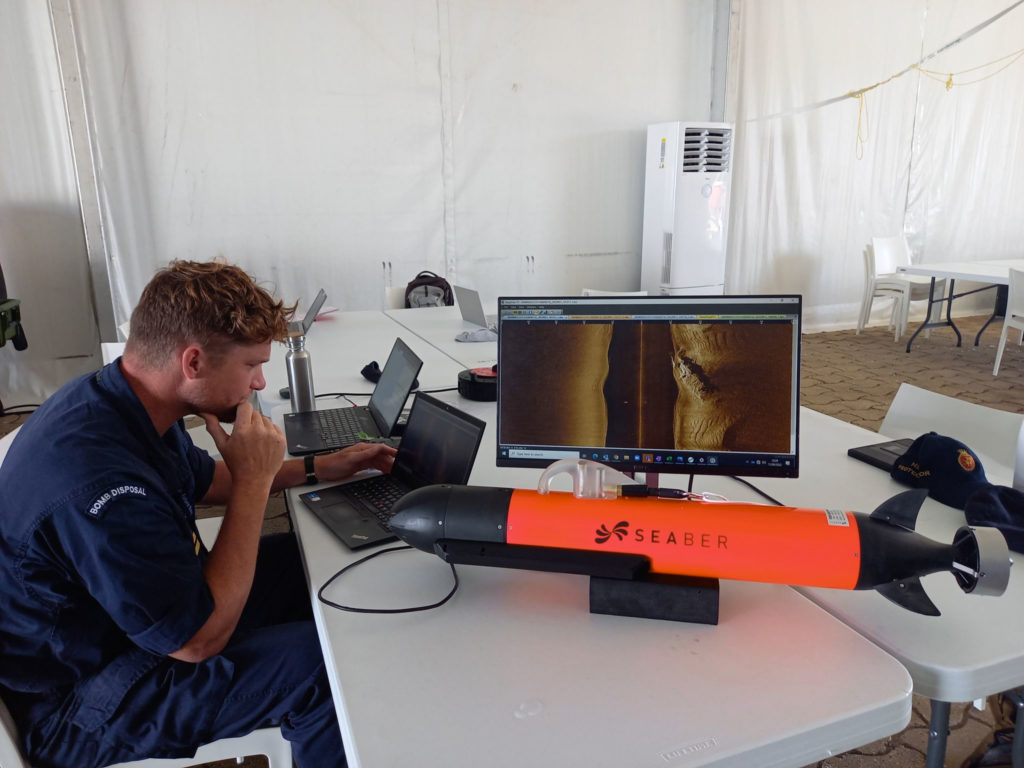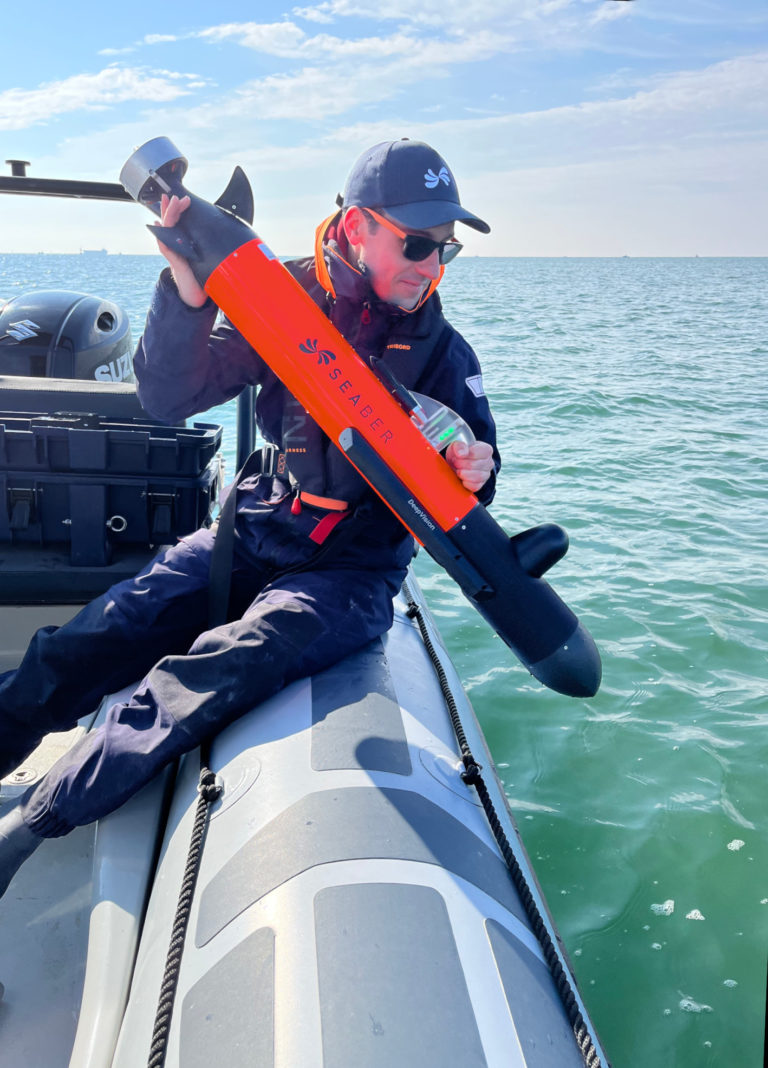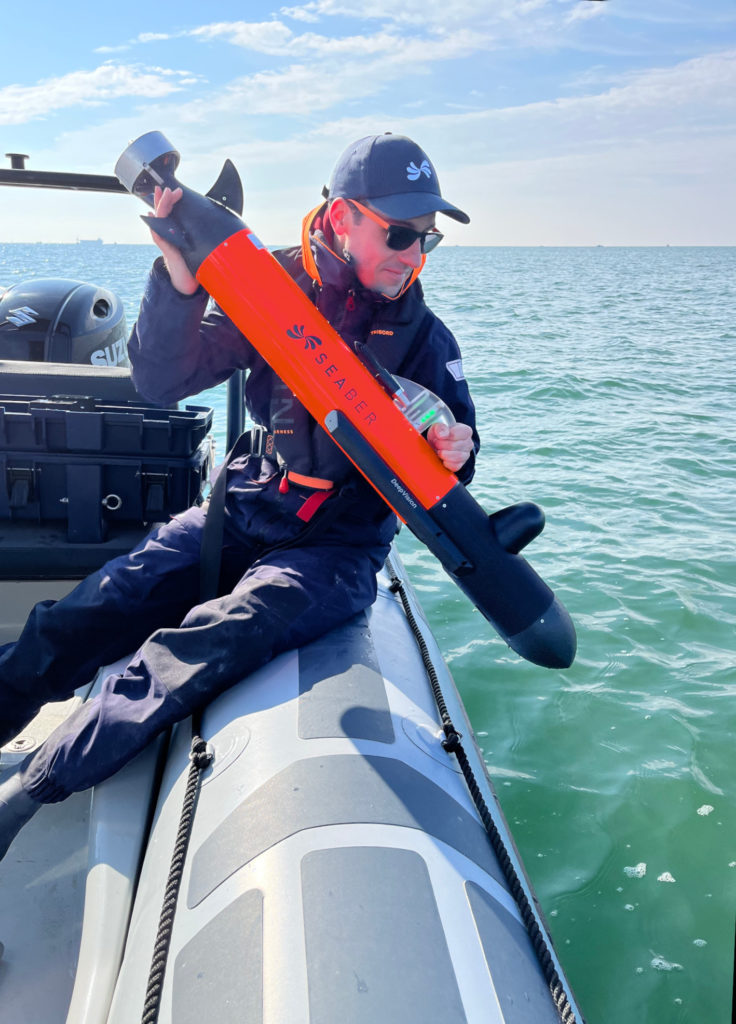 During the Undersea Defence Technology conference and exhibition, held from 9th to 11th May in Rostock, SEABER, the specialist in miniaturised underwater drones, announces the release of its new range of micro-AUV* for shallow and very shallow water mine countermeasures operations.
To address the rising naval mine threat, navies require autonomous and robust equipment that is quickly and easily deployable in any condition. That's why SEABER introduces a new range of micro-AUVs that deliver efficient and compact naval mine countermeasure solution.
To fulfil its mission of underwater mine detection and identification, SEABER presents a range of micro-AUVs equipped with standard payloads: Side Scan Sonar, Multibeam Echo Sounder and a fluxgate Magnetometer. The micro-AUVs are equipped with USBL underwater localization system, making it the most compact and user-friendly MCM AUV in its category. The main advantages of this new generation of micro-AUV are its high precision, high speed (up to 6 kn) and maneuverability, as well as its ultra-light weight of only 10 kg, which makes it easy to deploy and recover from shore or from a small boat.
"From the very beginning, many navies have been interested in our robust micro-AUVs. For military applications, we already developed the ASW range RECALL® micro-AUV and today, we are proud to introduce the MCM configuration. Our innovation is the answer to navies' needs for precise and easy-to-use stand-alone tools for their mine clearance operations in shallow and very shallow waters. Our philosophy is to make AUV technology affordable for any survey mission at sea. And once again, we have met this challenge. For less than 100 000 euros, our MCM micro-AUV is mission ready." states Vidal Teixeira, SEABER's CEO.
Notably, SEABER Micro-AUV with side scan sonar were successfully used in operational conditions during the NATO REP(MUS) exercise in late 2022.
At UDT, SEABER also showcases the RECALL® micro-AUV for military anti-submarine warfare (ASW) training. RECALL® is a micro-AUV designed by Seaber as a training target capable of realistically reproducing submarine noise and motion, incorporating different training modes such as passive, active and combined acoustics. RECALL® is compatible with modern sonar and torpedo systems.
It offers all the same features the RECALL® does, navigates at 12 knots and dives to a depth of 300 meters. Measuring only 90 cm long, 12 cm in diameter and weighing only 10 kg, RECALL® has a low logistical footprint and can be easily deployed within 10 minutes by any operator from surface ships, submarines, or helicopters. This robust system is easy to use by non-experts in robotics, thanks to an intuitive and ergonomic human-machine interface design. Aptly named, this innovative micro-UAV is equipped with the SEACOMM (UHF) recovery module for rapid location and recovery at sea.
SEABER will also exhibit its range of YUCO® micro-AUVs: YUCO-CARRIER®, YUCO-CTD®, YUCO-PHYSICO®, YUCO-PAM® as well as the YUCO-SCAN®.
ABOUT SEABER
French company SEABER, founded by experienced roboticists in various sectors of industry and marine research, aims to democratise access to underwater drone technologies.
SEABER has chosen a pragmatic approach, very market and user oriented, with a focus on performance and permanent innovation for its micro-UAVs.
Underwater drones have revolutionised ocean exploration and naval operations. Thanks to their ability to be equipped with various payloads, they provide a wide range of capabilities and are increasingly used in scientific, commercial and defense applications.
Medium and Large AUVs, which can weigh hundreds of kilograms are able to carry a wide range of payloads at the same time. Deploying such large AUV requires a high degree of expertise as well as large vessels. These AUVs are ideally suited to execute complex missions. Regarding the continental shelf, the future belongs to fleets of numerous small, agile, and affordable AUVs. Indeed, agile micro-AUVs are more adapted to short-term measurements in coastal areas due to their light weight, maneuverability and ease of deployment.
SEABER's YUCO® micro-AUVs have met the market's needs with great success in France, and abroad. Among other major actors from Japan, India, USA, Philippines and Canada, the Royal Navy is one of its customers.